Music and Lyrics by: Adam Guettel
Book and Additional Lyrics by: Tina Landau
Directed by: Tina Landau

© 1997 by Nonesuch Records.
Floyd Collins is based on the true story of a Kentucky caver who got trapped while exploring Sand Cave, and his ordeal from January 30 to February 16, 1925.
The musical Floyd Collins was commissioned by the American Music Theater Festival (now the Prince Music Theater), Philadelphia, and had its world premiere there from April 9- 24, 1994. The cast included Jim Morlino as Floyd Collins, Jason Danieley as Homer Collins, Floyd's younger brother, Theresa McCarthy as Nellie Collins, Floyd's sister, and Stephen Lee Anderson as Johnnie Gerald, a role that was subsequently eliminated in favor of incorporating the character into a composite with Homer Collins.
The show was subsequently redeveloped at Playwrights Horizons in 1995 in preparation for its New York premiere. Floyd Collins began a limited run at Playwrights Horizons on March 3, 1996. The New York production starred Christopher Innvar as Floyd, and once again, Jason Danieley as Homer, and Theresa McCarthy as Nellie. The cast recording was released on the Nonesuch label in March 1997.
At this moment, Floyd Collins is on the third leg of its three-city national tour. It was at the Old Globe in San Diego from Feb. 13 - March 21, and at the Prince Music Theater in Philadelphia until April 17th. The tour is currently at the Goodman in Chicago from April 23 - June 5, with some revisions incorporated between Philadelphia and Chicago. The touring cast stars Romain Fruge as Floyd, Clarke Thorell as Homer, and Kim Huber as Nellie. Jack Donahue, who plays Cliff Roney/Reporter, has his own website at http://www.jack-donahue.com.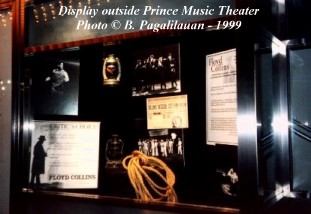 Floyd has been stuck in Sand Cave for
days.
Sign My Floyd Guestbook
View My Floyd Guestbook
Please note that this guestbook is different from my normal guestbook for the Broadway site.
Updated on April 24,1999
This page © B. Pagalilauan - 1997,1998,1999
---
Broadway | Les Miserables | LM 10th Anniversary | LM 3NT Toronto
Jane Eyre | Floyd Collins | Side Show | Bed and Sofa | The Scarlet Pimpernel
Reviews | NYC Pics | Resources | Sign Guestbook | Send Email | About This Site